Custom bearings
When it comes to your product or concept, we realise that it is crucially essential to have the correct bearing supplier who knows your particular needs and is able to help you identify, source and easily provides the best bearing for your application.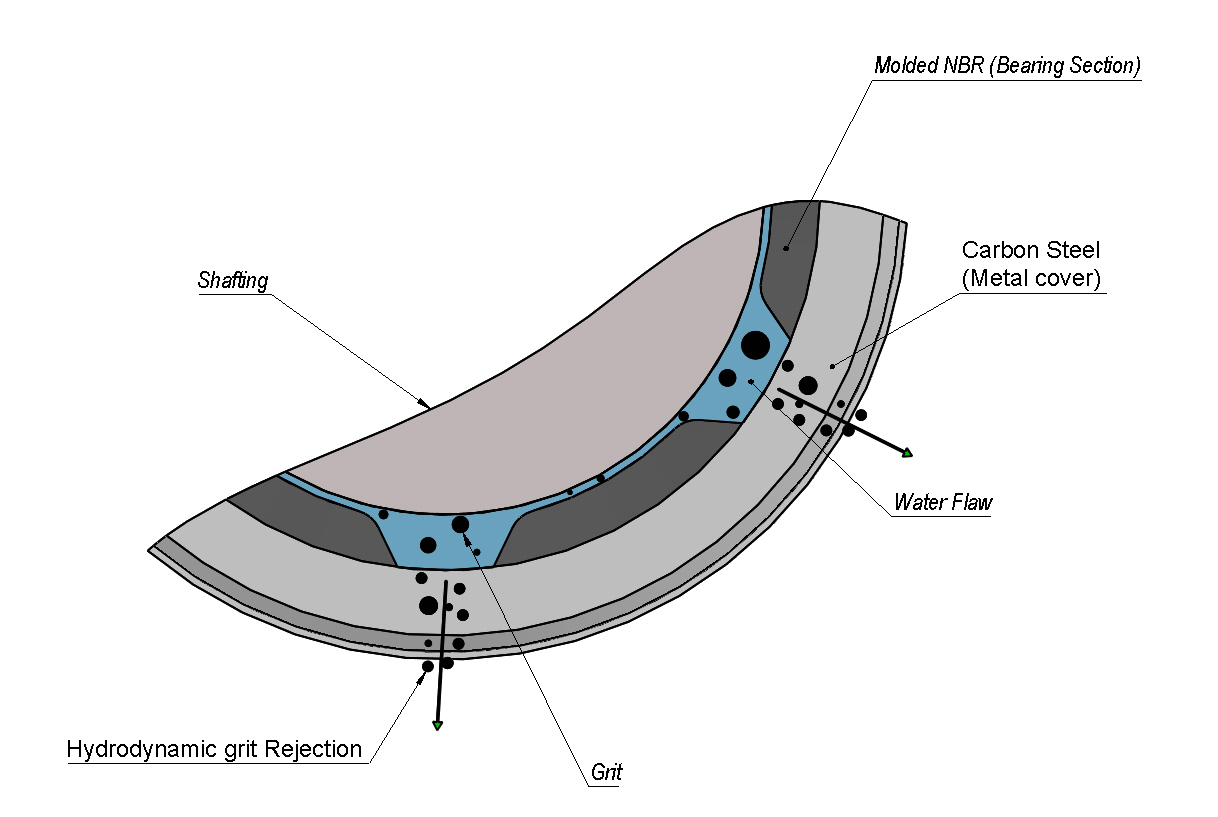 At Flextron, we will produce Cutless Rubber Brass Bush Bearings made of bronze/brass/copper/stainless steel/alloy steel with rubber bonding, such as NBR, Neoprene, HNBR, XNBR & Polyurethane. We use our existing network of premium suppliers to satisfy the concept and product requirements while also remaining competitively priced relative to other bearing manufacturers in the global market.
---
Why Choose Custom Cutless Bearings?
At Flextron, we offer customizations in a number of ways, including the production of exterior shells from different materials such as carbon steel, stainless steel, bronze metal, plastic engineering such as PTFE, Nylon, ABS and so on. In addition, our products come with several features, such as:
Energy Saving: When rubber comes into contact with water, it produces a slick surface resulting in a low friction coefficient. As a consequence, energy losses are minimised.
Vibration Absorption: The FSS bearings are made of soft rubber and are concentric with equally sized bearing grooves to eliminate the irregular vibration of the spinning shafts.
Protection of shafts: When contamination happens, the grooves within the rubber immediately expel sand fragments, pebbles or slurry along with the water. As a result, the water-lubricated bearings keep shafts and sleeves from making any significant wear and tear to last longer. The elastic properties of rubber enable grit and dirt to press into its substrate until it is flushed out, shielding the shaft from marking, unlike hard surface materials that can inflict unnecessary wear on the shaft.
---
Why should you choose Flextron?
Access to a wide range of water lubricated bearings
Customized technological and logistical approach
Support from our experts in the option of bearings
Avoid additional expenses
Quick response
Human touch & high-quality customer support
Flextron is the largest exporter of CUSTOM BEARINGS BUSH in Italy, Spain, Turkey, Germany, France and Japan.
---
Frequently Asked Questions
Ideally, it is impractical to continue to refurbish a bearing product for small bearings. Nevertheless, economic benefits could theoretically be made with wider bearings (6-inch bore and above). In specific, bearings like slewing circles, cylindrical roller bearings and spherical roller bearings are ideal for renovation.
Bearings play a crucial role and usually differ based on the application and industry. Hence, we highly recommend that you contact one of our bearing application engineers as you choose the design requirements. We provide professional sales and technical personnel to assist in the design and procurement process, optimise efficiency and ensure success.
Lubricating is the most essential element in determining the shelf life of the "properly stored" Cutless Bearing Bush. Oils and grease have a shelf life (expiry dates). Otherwise, given that the bearing is correctly stored (usually in its initial factory packaging), the future consequences of corrosion and decay will be negligible and will not greatly impair the shelf life.
---